All homes and work environments require a deep cleaning process regularly.
Except those general cleaning packages, KMAC International some specific ad hoc cleaning services
such as high ceiling dusting, scrubbing of toilet walls, clearing inside of refrigerator, etc.
Everyone can choose the specific ad hoc cleaning service according to their own requirements.
KMAC International can effectively complete all cleaning works and keeping your living environment healthy and cleaned.
Some specific Ad Hoc cleaning services are listed below: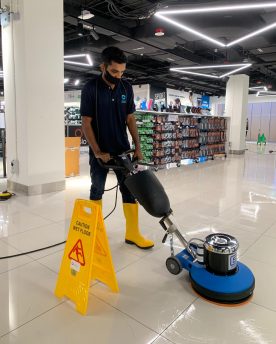 Manually mopping the floor is a cleaning job that requires a lot of time and effort. To improve the efficiency of cleaning, KMAC International can speed up your cleaning process. We use the floor scrubber machine which is suitable for different types of floor materials and can achieve the deep cleaning results of the floor. Nowadays, many people choose to use our floor scrubbing service compared with manual floor scrubbing. Because it can save time and effectively eliminate dirt and dust.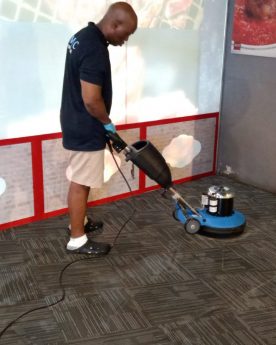 Are you still using a normal vacuum cleaner to remove dust from the carpet?In fact, this will not completely remove stains and bacteria on the carpet. Especially for those large carpets (eg.: office carpets), it is impossible for you to clean and wash yourselves. At this time, our cleaning team will apply a professional cleaning machine to help you remove stubborn stains and dirt on the carpet. Besides, we also suggest you can subscribe our steam cleaning service which uses high temperature to kill the bacteria on the carpet. For more information about the steam cleaning service, please refer to our website at: https://kmac.com.sg/service/steamcleaning/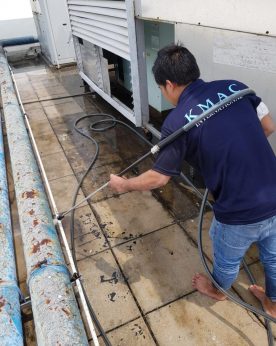 High Pressure Water Jetting
KMAC International provides a professional High pressure jetting cleaning service. High pressure jetting service is very suitable for removing dirt on concrete floorings, sidewalks, garages, walls, etc. The jetting cleaning technology used by our company is safe and we can ensure that your environment will not be damaged by the high water pressure. At the same time, this water jetting technique can make your environment brighter and more hygienic.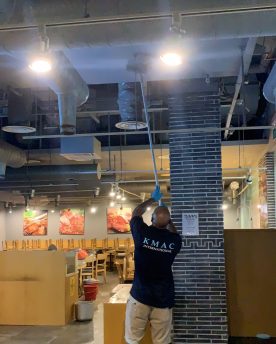 The daily general cleaning may neglect the cleaning of the ceiling. After a long period, a lot of dust and mold will accumulate on the ceiling and corners. These will affect our respiratory system and health. Therefore, the ceiling should be cleaned regularly to keep it clean.
KMAC International provides you with a variety of different cleaning services, fully tailored professional Ad-Hoc cleaning service based on your requirements. Contact us immediately and we will arrange professional cleaning services for you.