General Home Cleaning
PROFESSIONAL HOME CLEANING SERVICES IN SINGAPORE
General Home Cleaning
Time Saving for Busy Working Parents
No time for household chores and want to spend more time with your children? Why not engage a professional home cleaning service to lessen your burden?
KMAC provides professional home cleaning services to help you clean your home and allow you to have more time to relax yourself.
How often should you clean your house? One week? Two weeks? Or a month? To maintain a dust-free living environment, we recommend that you clean your house at least once a week. A clean environment can reduce the accumulation of dust, thereby improving the hygiene and health of your family members. Engage a professional home cleaning service with KMAC today!
Job Scope for Home Cleaning Services:
General Home Cleaning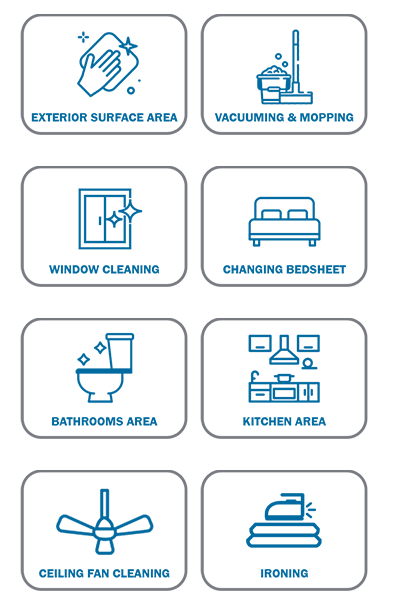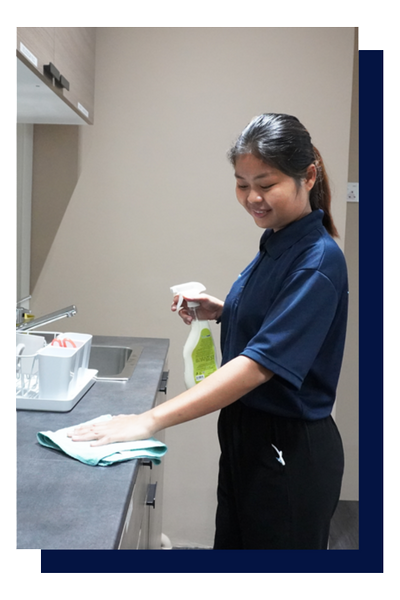 General Home Cleaning
Why Choose KMAC Home Cleaning Service?
In KMAC, we strive to deliver a high-quality home cleaning service to our customers in Singapore. As a well-established home cleaning company, KMAC does more than JUST CLEANING. Our team will identify what our customers need and develop a comprehensive home cleaning solution for them. Applying environmentally friendly cleaning products and high-tech cleaning equipment to deep clean every home and protect the health of you and your family.
Thoroughly trained and dedicated cleaners
High-Tech cleaning machine & equipment
More than 10 Years of cleaning experience
Innovative Cleaning Technology
KMAC employs advanced cleaning technology to keep the whole environment more thorough thus improving the living quality and hygiene.
Our cleaning technology can remove those fine dust & tough stains to leave your living and working space spotless.
Affordable and customized
KMAC offers customized and flexible home cleaning services in Singapore to solve any cleaning issues simultaneously, tailored to suit different requirements and budgets. No additional charge for site estimation, get your free quotation today!
100% Satisfaction Guaranteed
Our home cleaning services is fully guaranteed. After every cleaning session, our team will provide an inspection to make sure every corner of your home is cleaned. All of our customers are totally satisfied with our cleaning results. If you are dissatisfied with the outcome, just inform us during the inspection. We'll touch up those unsatisfied areas for you without any charges!
HOW TO PREPARE FOR A HOME CLEANING SERVICE?
Preparing for home cleaning services can make the process smoother and more efficient, allowing the cleaners to do their job quickly and effectively. Here are some tips on how to prepare for home/residential cleaning services from KMAC:
Determine your cleaning needs
Identifying your cleaning needs is the first step in preparing for home cleaning services. Create a list of the cleaning tasks you want the cleaners to accomplish, and consider which areas of your home require the most attention. The cleaners will be better able to understand your needs as a result, and they will be able to adjust their services accordingly.
Keep the surfaces clear
Clearing surfaces like desks, counters, and tables will simplify the cleaning process for the cleaners. Books, magazines, and electronics should all be removed and stored to lessen the chance of accidental damage occurring to your possessions while they are being cleaned.
Secure your pets
If you have pets, make sure to keep them in a safe and comfortable area during the home cleaning process. This will stop them from obstructing the cleaners and perhaps result in any incidents. Moreover, it's a good idea to let the cleaners know if you have any pets so they can take any required safety measures.
General Home Cleaning
FREQUENTLY ASKED QUESTIONS ABOUT HOME CLEANING
General Home Cleaning
Step 1
Drop us a message on our website/ whatsapp 9880 1528/ live chat to ask for quotation. Our sales representative will reply you within 24 hours.
Step 2
Tell us what kind of cleaning service you are looking for and provide us more details for accurate quotation.
Step 3
After understanding our client's needs, we will propose what are the suitable cleaning packages according to their specific requirements.
Step 4
After-sales service is important to our clients too. We will support and solve each and every client's problem.