The Differences Between Steam Cleaning and Upholstery Cleaning

THE DIFFERENCES BETWEEN STEAM CLEANING AND UPHOLSTERY CLEANING
Recently, our team has received many inquiries from customers about "What is the difference between steam cleaning and upholstery cleaning?" "Do we still need to do upholstery cleaning after steam cleaning?"
At KMAC, we have two types of professional cleaning machines which are Steam Cleaning Machine and Water Extraction Upholstery Deep Cleaning Machine. Both cleaning machines are suitable for various fabric furniture, including sofas, mattresses, pillows, carpets etc. However, their functions are different. Next, let's explore more about the difference between steam cleaning and upholstery cleaning as well as understand when you need to engage these two cleaning services.
Steam Cleaning
Steam cleaning adopts an advanced cleaning machine that uses 170°C high-temperature steam to disinfect surfaces to eliminate bacteria and mold at a high temperature. Unlike traditional cleaning methods, steam cleaning will not damage the surface and this kind of cleaning solution is chemical-free & eco-friendly, which will not cause harm to your family and pets. Our steam cleaning is not only suitable for any fabric furniture, now we have steam mopping to replace traditional mopping. Steam mopping can be used on surfaces such as tiles, grout, etc. It can remove chemical residues and prevent pollutants from harming your living environment.
Check out how the steam cleaning works: 
Upholstery Cleaning
To effectively remove the hard stains and dust mites on your fabric furniture, an Upholstery Deep Cleaning is necessary to engage, not just steam cleaning. Our upholstery cleaning adopts strong water extraction will pump out a soapy cleaning solution into the fabric furniture and instants extract the solutions completely. In result, eliminates those stubborn stains, dust mites and unpleasant odors. Make your furniture look brand new.
Check out how the upholstery cleaning works: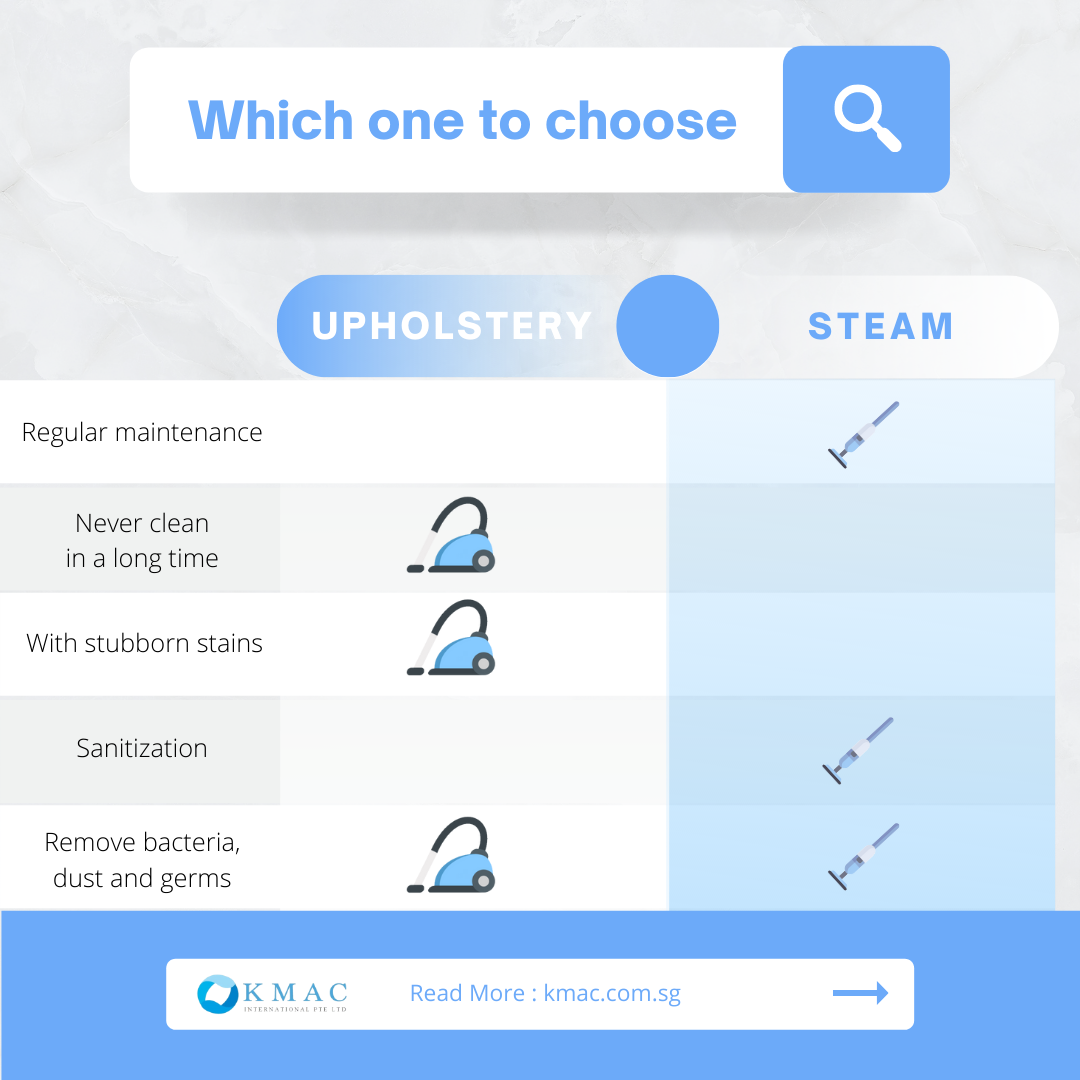 At KMAC, both steam cleaning and upholstery cleaning are popular cleaning services. Most households in Singapore care about the hygiene and cleanliness of their homes, so they always choose both cleaning methods at the same time.
Don't worry! Our cleaners are also professionally trained and experienced, and we can provide you with the best cleaning service! Of course, if you don't know which cleaning service is suitable to remove the dirty stains in your home, you can send the info to us at 9880 1528 or enquiry@kmac.com.sg, and our experts will give you the best solution immediately!