Benefits of Upholstery Cleaning for Children and Pets
Ever since the pandemic started, people are increasingly particular about hygiene. Cleaning habits have changed due to Covid-19. From washing hands more frequently, to thoroughly cleaning our homes, people have become obsessed to protect their loved ones from germs or viruses. Living in a healthy and clean space is one of the actions we can take to help protect ourselves and our loved ones from infectious diseases. As a result, people are now more conscious about their activities in their homes and how their actions affect the way they live. In this case, how they clean their homes.
How Upholstery or Sofa Cleaning Works
Cleaning services have since expanded their product range to include deep cleaning and upholstery cleaning. What exactly is upholstery cleaning and how does it benefit homeowners?
Upholstery are materials, such as fabric, padding, webbing, and strings, that frame the soft coverings of a sofa, chair, and other furniture. These types of furniture are usually challenging to clean and would require a professional to ensure that they've been thoroughly disinfected. Aside from the hygiene aspect, there are many reasons why you should take care of your upholstery. One of them is to maintain its comfort and appearance which can benefit its function in the long run.
Upholstery cleaning is a process of eliminating dirt, germs, and various bacteria on the fabric furniture by using upholstery cleaner and steam during the cleaning process. Upholstery is prone to damage due to usage, dirt, dust, spills, and food crumbs. Normally, upholstery cleaning includes sofa cleaning, couch cleaning, carpet cleaning, mattress cleaning, baby furniture cleaning, and any furniture that has fabric as a main material.
Benefits of Upholstery or Sofa Cleaning
There are many benefits to why it is important to have your upholstery professionally cleaned. Some people even consider upholstery cleaning as a part of an investment. This will allow you to save up money by taking care of its function, colors, textures, and comfort which increase the lifespan of your furniture.
Upholstery cleaning uses eco-friendly high-heat steam cleaning to sanitize and kill the bacteria on your furniture. The process of ultra-modern extraction from technology machines can extract stubborn debris, dirt, pet fur, and odors while killing any bacteria or mold in the fabric.
Clean furniture is an essential part of maintaining a healthy environment, especially for young children and infants who are more susceptible to various infections. If you have pets, germ-free couches and sofas will also omit allergens resulting from the pet's fur.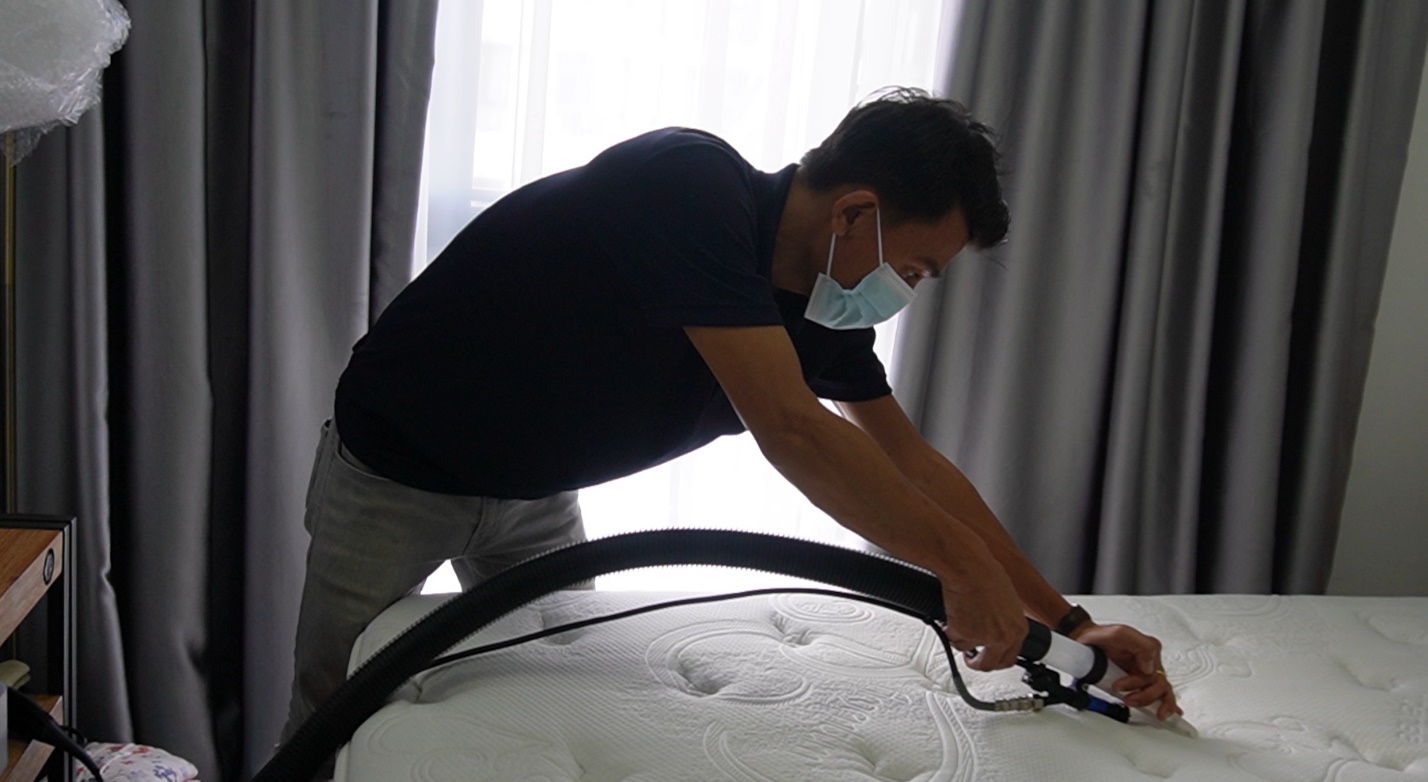 Why engage KMAC International?
KMAC adopts advanced cleaning technology to provide a good upholstery cleaning service for your sofas, mattresses, carpets, and other fabric products as well as baby furniture. Our professionally trained cleaners will ensure the quality of our cleaning services to meet your expectations.
With KMAC, your property will also be fully insured with work accident insurance. This will allow you to be protected from unforeseen damages. We aim to provide a clean and healthy environment for you. All the equipment we use for the upholstery cleaning process is chemical-free and safe for babies and pets as well.
To start, you can drop us an email at enquiry@kmac.com.sg or contact us at 6909 3822.
Let KMAC maintain your upholstery's hygiene and help you and your loved ones create a healthy living space!